PMI-ACP | PMP Certification | PMP Exam Prep | Professional Development
Virtual classes combining live instruction and online materials enable you to learn from the experts from the convenience of your home office space. To prepare for your Project Management Professional or PMI Agile Certified Practitioner (PMP® or PMI-ACP®) certification, start with a virtual training that provides the opportunity to: engage with the faculty directly, expand your professional network across industries, and leverage digital resources as part of your personalized study plan. Research shows that a carefully designed virtual training is highly effective with 86% reporting "…the experience "just as engaging" or "more engaging than" traditional classroom training…" In that same study, students in the virtual version of a class actually scored higher than their counterparts in the face-to-face classroom.
Earning a project management certification is a smart way to set yourself apart from your peers and increase your earning potential. Today, the Agile Methodology is being used worldwide to streamline projects in countless industries. In fact, according to the Project Management Institute, Agile organizations complete a higher percentage of projects – 75 percent versus 56 percent – than their non-Agile counterparts.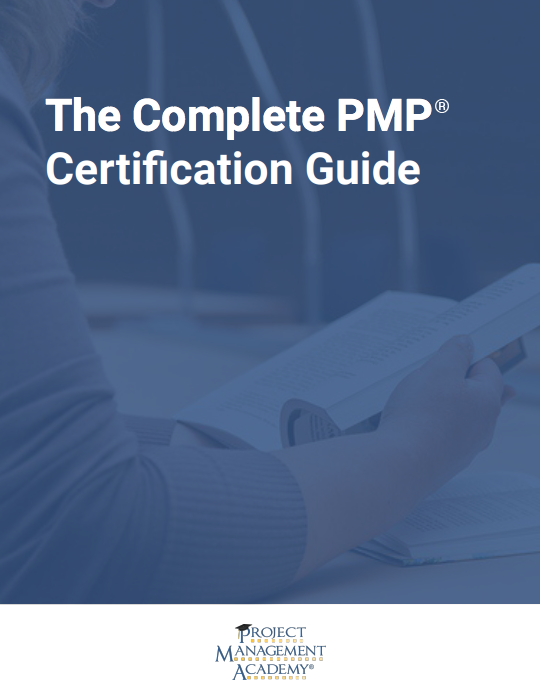 Are you interested in earning your Project Management Professional (PMP)® certification, but you're unsure how to start the process?
Learn what steps you need to take to become a PMP certification holder and subscribe to our blog.
The Project Management Professional (PMP)® and the PMI Agile Certified Practitioner (PMI-ACP)® certifications are two popular options for project managers who want to take their careers to the next level. While the PMP® certification and the PMI-ACP® certification are both earned after passing an exam, the primary difference between the two is the methods on which they focus. The PMP exam is focused on the Waterfall methodology, and subsequent project management approaches that support this methodology. In contrast, the PMI-ACP exam is entirely focused Agile practices.
Agile | PMI-ACP | Project Management
Agile methods and frameworks have existed for several decades. The V-model, Rapid Application Development (RAD), and the Spiral model are three such methodologies which predate the 2001 creation of the Agile Manifesto. Because agile methods have been around for quite some time in the technology sector they are often viewed as being exclusively for software development and Information Technology (IT) organizations. However, several companies now realize merely adopting agile methods and frameworks are not enough to sustain competitiveness in an unstable business climate. Agility requires a wholesale replacement of a management paradigm invented in the Industrial Era but has evolved very little since that time. Organizations need to rethink every aspect of their operating model. Agility requires more than process adoption. In this article, we'll explore what this means to managers and leaders.
Agile | PMI-ACP | PMI-SP | PMP Exam Prep | Professional Development | Scaled Agile Framework
Are you thinking about earning a project management certification? Earning a certification can take your career to the next level and increase your earning potential. However, there are numerous options out there, each one with its own benefits. It can be difficult to determine what the right option could be for your future.
Agile | PMI-ACP | Project Management
Agile is a flexible, streamlined project management approach. Due to this flexibility, numerous Agile software solutions have emerged, each one ideal for a different type of business or team structure.
Agile | PMI-ACP | Professional Development
Becoming a PMI Agile Certified Practitioner (PMI-ACP)® credential holder takes some work, but the investment of your time and effort will have long-term positive results in your career. Because earning the PMI-ACP® certification requires so much time, you need to know exactly what you're required to do to earn this certification, so you can plan according to your personal and professional schedule.
Continuing Education | PMI-ACP | Professional Development
Have you dedicated long hours of study and hard work to prepare for the PMI Agile Certified Practitioner (PMI-ACP)® certification exam? Successfully earning your PMI-ACP® credential is a major accomplishment. But if you want to continue reaping the benefits of holding your certification, passing the exam is not the end of your education. All PMI Agile Certified Practitioner® credential holders are required to meet specific certification renewal requirements every three years.
When Agile Methodology was first developed, it made waves in the software development space. And, in many cases, Agile continues to be closely associated with the industry.
For many in the project management industry, Agile and Scrum are terms you have likely heard for a while. And at first glance, it can feel like some people use the terms Agile and Scrum interchangeably. However, these terms have specific meanings, so it's important to understand Agile vs. Scrum, and how they work together help you get your work done.